If you manage a public-facing UC Berkeley-affiliated YouTube channel, please join the UC Berkeley Network on YouTube. This is an important step toward meeting our accessibility goals under the Consent Decree with the US Department of Justice.
Benefits of joining:
If you join by August 1, 2023, the Digital Accessibility Program will pay to caption all (non-lecture) videos posted during the 2-year period between December 2, 2020 and December 2, 2022.
We'll connect you with a pre-approved 3rd party vendor who can help you meet the captioning requirements for all new videos (posted after December 2, 2022).
We'll help you identify which older or "legacy" videos require captioning to comply with the consent decree.
Ultimately, it is your responsibility to ensure your content is accessible. However, by joining the UC Berkeley Network on YouTube, you are partnering with Berkeley IT's Digital Accessibility Program and bConnected. We can offer you support and guidance, and facilitate the use of accessibility services.
How to join the UCB Network
First, you'll need to be invited. If you haven't received an invitation, email improving-accessibility@berkeley.edu and provide us with the following information:

Channel name
Channel URL
Channel owner's email address

We will send your channel an invitation via the Berkeley YouTube Network.
You will get an email from YouTube that states, "UC Berkeley has indicated that you have a business relationship with them…" Select the link that says, "make the change in YouTube Studio."
This will take you to your Channel dashboard. (You can also get there by going to the "YouTube Studio" link from the menu under your account icon in YouTube.)
On your Channel dashboard, you'll see a section titled, "Network invitation." Select the "Respond" link.
You'll get a pop up titled, "Invitation to join network: UC Berkeley" with some warning statements. Select "Review details."
On the next pop-up, select the "I grant ownership" checkbox and then the "Join Network" link.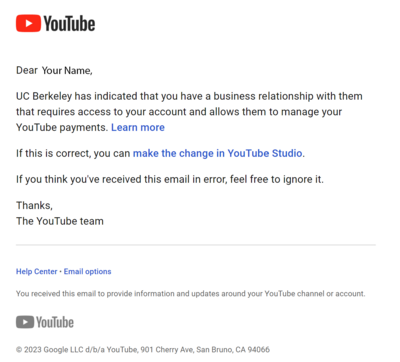 Questions
Will you monetize my content? No. Absolutely not. It's standard notification from YouTube and something we can not turn off.
What's with all the scary warnings when I opt in to join the UC Berkeley Network? A majority of YouTube channel owners create content to make money. Sometimes, third party networks invite channels to join them in exchange for services with the goal of increasing monetization. These warnings are written for those situations and do not apply here.
Do I have to join? It is not required, but if you choose not to join by August 1, 2023 you will be responsible for accurately captioning all your public and unlisted legacy videos in addition to content from December 2, 2022 forward.
What will happen to my Channel after I join? On your end, it will look and function the same.